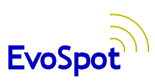 ---
EvoSpot is supplement Wi-Fi software of MyCafeCup Platinum and sold separately. It creates a HotSpot integrated to MyCafeCup Platinum and enhances your store services for various devices of your customers such as notebook, PDA, or mobile phone to access internet. EvoSpot allows you to control, manage and meter Internet access time by using the account created by MyCafeCup Platinum. EvoSpot provides ultimate service both LAN PC's and Wi-Fi devices for your customers satisfaction and also generate more income for your store.

EvoSpot WiFi Timer is designed for the internet access business places such as Internet cafes, coffee shops, apartments, hotel lobby/lounge/ business centers, guest houses, restaurants, resorts, village clubs, game centers, Condominiums or other Wi-Fi Internet access places.
---
General Information of EvoSpot Plug-in.





Q.

What is EvoSpot? Is it Hardware or Software ?


A.

EvoSpot is Software (pronounced as "e-vo-spot") which allows the Internet Access with customer own devices (Notebook or PDA). It is difference from MyCafeCup Platinum that only manges and control usage of PCs provided in the store. EvoSpot is Plug-in Software working with MyCafeCup Platinum to verify user/password and meter internet usage time of each customer's devices. (EvoSpot's old name is EvoBox)

Q. What's Wi-Fi Access Point?


A.

Access Point is a device that connects wireless communication devices together to form a wireless network and works similar to Hub with wire network.



Q.

What is Wi-Fi HotSpot?


A.

WiFi is a set of standards for wireless local area networks (WLAN) that allows a person with a wireless-enabled computer system to connect to the Internet within the environment of an access point called a "Hotspot" Then, if your internet services provide Wi-Fi Access Point connection, it means you have "Wi-Fi HotSpot" in your store.



Q.

How is EvoSpot useful for the store where has already provides WiFi AccessPoint for customers to access the internet?


A.

EvoSpot will automatically meter time and calculate usage fee when a customer access the internet. (Note: It is difficult to measure usage time manually because you cannot know that a customer access internet of your store or not. WiFi is invisible, so it is hard to manage connections.)




Q.

What is the different billing system between a customer own device (Laptop, PDA or Mobile Phone) and a store's PC?


A.

A store's PCs need to install Client Software which manages customers usage of those PCs. Also Client Software helps us to control several PC functions managed by MCA Platinum. But a customer devices such as Notebook and PDA only need to gain access internet from your store. We cannot install any client software into those customers' devices. Thus we can do only meter internet usage time of them and EvoSpot will help us to do that.



Q.

Can EvoSpot support the connections from WiFi AccessPoint and/or RJ45 Network Cable?


A.

Yes, EvoSpot supports both Wireless (WiFi via AccessPoint) and Wired (Cable via HUB) connections.




Q.

How do a customer access internet with his notebook/PDA thru EvoSpot?


A.

After a customer sets up proper configuration of his computer system, turn it on and open his web browser with any URL address. It will automatically detect the WiFi signal and EvoSpot will prompt him for his login name and password. Please key in his login name and password and he can begin surfing the Internet.



Q.

Where is User Account come from?


A.

User Account is created/issued by MyCafeCup Platinum Server as usual.



Q.

Can Use Account use with a store's PCs or not?


A.

Yes. EvoSpot+MyCafeCup is the only one system in the world today that can manage user usage both PCs of a store and customer's devices (Notebook or PDA). This system really can manage and control both kind of devices. And it is not the mislead convincing advertisement for the people to buy the software.



Q.

How difficult could it be to add on EvoSpot or learn to use it if you already have MycafeCup system in your store?


A.

No, it couldn't be difficult at all becuase we only add one more page to manage WiFi devices into MyCafeCup Server, so an administrator almost do not change any operations or learn more to understand a new system.



Q.

Can MyCafeCup and EvoSpot service be available 24x7 ?


A.

Yes. They can be available 24x7 depending on how stable of your PC, O/S and drivers. MyCafeCup System has already proven by users around the world that it can service 24 hours a day, 7 days a week running nonstop for several months without shutting down a server. MyCafeCup also has no problem running across time of day, month, or year that you often find this problem with other system.



Q.

What kind of business could EvoSpot be suitable for?


A.

When EvoSpot plugs into MyCafeCup Platinum, it becomes a suitable system for variety business such as Internet cafes, game houses, coffee shops, bakery shops, schools, hotels, hotel business centers, airports, resorts, bungalows, pubs, bars, lounges, lobbies, libraries, spa shops, swimming pool and fitness centers, village clubs, restaurants, garden restaurants, condominiums, guest houses, apartments ,and other WiFi or PC Internet access places.



Q.

How fast of internet speed should a shop be used?


A.

EvoSpot and MyCafeCup do not concern about how fast of internet speed a shop should connect to ISP. Because the fastest of internet speed is the best impression to customers.



Q.

How is EvoSpot hotspot software better than hotspot hardware?


A.

Nowadays, you might found hardware equipment which perform hotspot function themselves. But all of them only are All-in-one (Modem/router/accesspoint) equipment that are modified firmware to add billing function into them. This will make your warranty expired immediately because of it. Those equipment are not designed to handle a heavy duty and complicated functions that will cause the problem for many users. And also the memory in these equipment are very limited to store a large number of accounts and other necessary data information as much as you want. What happen when the equipment is out of order and your want to replace. You might face the unexpected problem. But EvoSpot will release you from proprietary hardware. It means you can use any Access Point/ Router of any brands as you want.



Q.

How do I do if I want to use EvoSpot?


A.

First you should verify your minimum configuration requirements below before preparing to install trial version, then please contact us.



Q.

How do I do to get EvoSpot If I am a MyCafeCup Platinum current customer?


A.

For every MyCafeCup Patinum current customers , we have EvoSpot Best Offer to dominate your business over competitors. please contact us.



Q.

How do I start if I want to use EvoSpot service but I don't have any know how about the computer?


A.

We can help you to estimate cost and install the system to your place no matter how large of your business place in a reasonable price and save your budget. And also we can supply hardwares for you or you can provide them yourself.



---
Example System Diagram use of EvoSpot + MyCafeCup Complete Set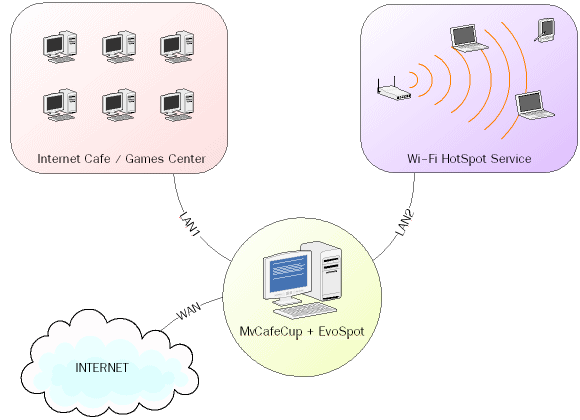 ---
Sample screen shots from WiFi Client's web browser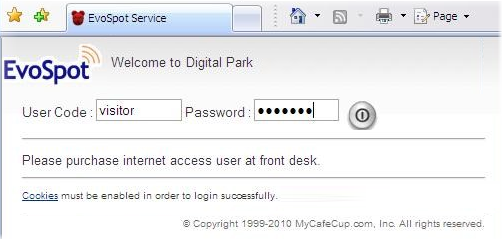 LogOn Screen (Optimized secure and for small screen rendering)
---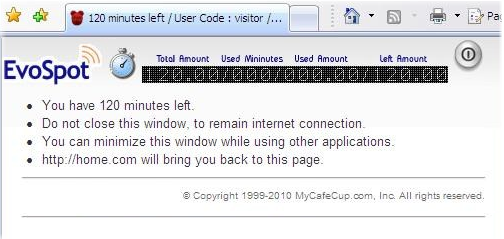 Timer screen, after the customer successfully authenticated.
---
Minimum Requirement of Hardware to install

EvoSpot + MyCafeCup Platinum Server


- CPU : Pentium 4 speed 2.0 GHz or higher
- O/S : Windows XP (SP2) Home/ Pro , Windows 2000 (SP4+) , Windows 2003, Windows 7, Windows 2008
- Memory : 512 MB
- Harddisk : minimum space 1 GB
- Network : 2 Lan cards (First Lan card for connecting to access internet router, Second Lan card for connecting toWi-Fi Access Point)



Network and WLAN Equipments


- Wi-Fi Access Point : 1 set for connecting to Wi-Fi (In general Wi-Fi signal has a maximum range of 150 feet indoors and

300

feet outdoors). ( Eg : D-Link DWL-2100AP, DWL-G700AP, DAP-1150, DAP-1353)
- Internet Router : 1 set with any version of any brands for connecting to internet.



Please contact info@MyCafeCup.com for EvoSpot Plug-in Download and Installation information
---