MyCafeCup ? Internet cafe software / cybercafe software for management and billing of cyber cafes. The leading cybercafe billing software is the excellent tool for managing your Internet Cafe, Cyber Cafe, Gaming cafe, Game Center, Internetcafe, cybercafes, gamecafe or Hotel Business Center.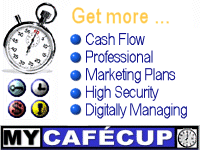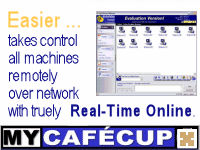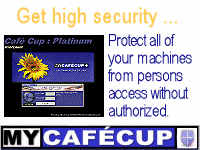 ---
:: English

Cyber Internet Cafe Software / Internet Cyber Cafe Software : MyCafeCup - take control of your internet cybercafe. Explore to get the new cybercafe management strategies, flexible marketing plans, billing and more easily than ever. MyCafeCup has many unique features optimized for Internet Cafe / CyberCafe / Gaming Cafe / Online Cafe / Internet Caffe / Game Center / Business Center / Library Cafe or any kind of PC rental business. Download MyCafeCup now, then you will get much more of your free time.

MyCafeCup is a software solutions for the operation of an Internet Cyber Cafe or PC rental system. Designed primarily for Cyber Internet Cafe business and also can be used to control the PCs on your intranet. System functions and user interface has been designed to be easy to use with little or no experience in the computer industry. The software allows you to set up various marketing plans for each user to chose from.

MyCafeCup is Client / Server application which allows you to easily manage and monitor all client machines status remotely from the Server in on-line and in real time. Administrators can just monitor or manage the things at clients easier from the server, such as shutdown, reboot, force the user to log-out, see the running applications, etc ....

MyCafeCup has a high security to prevent the un-authorized users access to your client computers, so just grant access to your customer individually. By creating username/password accounts with the ability to charge the user in various terms.

We invite you to have a look at all that MyCafeCup has to offer. Download a copy of the evaluation edition and check out all the features.

Do not forget to check our news page for news and up to date information about our products.
---
:: Spanish

Software del Internet caf? /software del cyber caf? de MyCafeCup - tome el control de su cybercafe, caf? del Internet, centro del juego o caf? del juego. Explore para conseguir las nuevas estrategias de la gerencia del caf? del Internet, planes flexibles de la comercializaci?n, facturaci?n y m?s f?cilmente que siempre. MyCafeCup tiene muchas caracter?sticas ?nicas optimizadas para el negocio del caf? del Internet. Ahora descargue MyCafeCup, entonces usted conseguir? mucho m?s de su tiempo libre.

MyCafeCup es soluciones de un software para la operaci?n de un sistema del alquiler del caf? o de la PC de Cyber del Internet. Dise?ado sobre todo para el negocio del caf? del Internet de Cyber y tambi?n puede ser utilizado controlar las PC en su Intranet. El sistema funciona y el interfaz utilizador se ha dise?ado para ser f?cil de utilizar con poco o nada de experiencia en la industria del ordenador. El software permite que usted instale los varios planes de la comercializaci?n para cada usuario a eligi? de.

MyCafeCup es el uso del cliente/del servidor que permite que usted maneje y que supervise f?cilmente todo el estado de las m?quinas del cliente remotamente del servidor en en l?nea y en tiempo real. Los administradores conservan justo supervisan o manejan las cosas en los clientes m?s f?ciles del servidor, tal como parada, reboot, fuerzan a usuario al registro de estado de la m?quina, ven los usos, el etc corrientes....

MyCafeCup tiene una alta seguridad para prevenir el acceso de usuarios desautorizado a sus computadoras del cliente, acceso tan justo de la concesi?n a su cliente individualmente. Creando username/password considera con la capacidad de cargar al usuario en varios t?rminos.

Le invitamos a que tenga una mirada en todos que MyCafeCup tenga que ofrecer. Descargue una copia de la edici?n de la evaluaci?n y compruebe fuera de todas las caracter?sticas.

No se olvide de comprobar nuestra p?gina de las noticias para saber si hay noticias e informaci?n actualizada sobre nuestros productos.
---
:: French

Logiciel de Internet caf? /logiciel cyber caf? par MyCafeCup - prenez la commande de votre cybercafe, caf? d'Internet, centre de jeu ou caf? de jeu. Explorez pour obtenir les nouvelles strat?gies de gestion de caf? d'Internet, plans flexibles de vente, facturation et plus facilement que jamais. MyCafeCup a beaucoup de dispositifs uniques optimis?s pour des affaires de caf? d'Internet. T?l?chargez MyCafeCup maintenant, alors vous obtiendra beaucoup plus de votre temps libre.

MyCafeCup est des solutions d'un logiciel pour l'op?ration d'un syst?me de location de caf? ou de PC de Cyber d'Internet. Con?u principalement pour des affaires de caf? d'Internet de Cyber et peut ?galement ?tre employ? pour commander les PCS sur votre Intranet. Le syst?me fonctionne et il a ?t? con?u pour ?tre facile employer interface utilisateur avec peu ou pas d'exp?rience dans l'industrie d'ordinateurs. Le logiciel vous permet d'installer de divers plans de vente pour chaque utilisateur ? a choisi de.

MyCafeCup est l'application de client/serveur qui vous permet facilement de contr?ler et surveiller tout le statut de machines de client ?loign? du serveur dans en ligne et en temps r?el. Les administrateurs mettent en bo?te juste surveillent ou contr?lent les choses aux clients plus faciles du serveur, tel que l'arr?t, r?initialisation, forcent l'utilisateur ? la sortie du syst?me, voient les applications, etc.. courants....

MyCafeCup a une s?curit? ?lev?e pour emp?cher l'acc?s d'utilisateurs non autoris? ? vos ordinateurs de client, acc?s tellement juste de concession ? votre client individuellement. En cr?ant username/password rend compte avec la capacit? de charger l'utilisateur en divers termes.

Nous vous invitons ? aller voir tous ce que MyCafeCup doit offrir. T?l?chargez une copie de l'?dition d'?valuation et v?rifiez tous les dispositifs.

N'oubliez pas d'examiner notre page de nouvelles pour assurer les nouvelles et les informations ? jour sur nos produits.
---
:: Portuguese

Software do Internet caf? /software cyber caf? por MyCafeCup - fa?a exame do controle de seu cybercafe, caf? do Internet, centro do jogo ou caf? do gaming. Explore para come?ar mais f?cilmente as estrat?gias novas da ger?ncia do caf? do Internet, plantas flex?veis do marketing, faturamento e do que sempre. MyCafeCup tem muitas caracter?sticas originais optimized para o neg?cio do caf? do Internet. Download MyCafeCup agora, ent?o voc? come?ar? muito mais de seu tempo livre.

MyCafeCup ? solu??es de um software para a opera??o de um sistema do rental do caf? ou do PC de Cyber do Internet. Projetado primeiramente para o neg?cio do caf? do Internet de Cyber e tamb?m pode ser usado controlar os PCES em seu Intranet. O sistema funciona e a rela??o de usu?rio foi projetada ser f?cil de usar-se com quase nenhuma experi?ncia na ind?stria de computador. O software permite que voc? ajuste acima v?rias plantas do marketing para cada usu?rio a escolheu de.

MyCafeCup ? a aplica??o do cliente/usu?rio que permite que voc? f?cilmente controle e monitore todo o status das m?quinas do cliente remotamente do usu?rio em em linha e no tempo real. Os administradores enlatam justo monitoram ou controlam as coisas nos clientes mais f?ceis do usu?rio, tal como a parada programada, reboot, for?am o usu?rio ao log-out, v?em as aplica??es, etc. running....

MyCafeCup tem uma seguran?a elevada para impedir individualmente o acesso de usu?rios desautorizado a seus computadores do cliente, acesso assim justo da concess?o a seu cliente. Criando username/password explica com a abilidade de carregar o usu?rio em v?rios termos.

N?s convidamo-lo ter um olhar em tudo que MyCafeCup tem que oferecer. Download uma c?pia da edi??o da avalia??o e verifique-a para fora de todas as caracter?sticas.

N?o se esque?a de verificar nossa p?gina da not?cia para ver se h? a not?cia e a informa??o moderna sobre nossos produtos.
---
:: Italian

Software del internet caff?/software cyber caff? da MyCafeCup - prenda il controllo del vostro cybercafe, caff? del Internet, centro del gioco o caff? di gioco. Esplori per ottenere pi? facilmente le nuove strategie dell'amministrazione del caff? del Internet, i programmi flessibili di vendita, fatturazione e che mai. MyCafeCup ha molte caratteristiche uniche ottimizzate per il commercio del caff? del Internet. Ora trasferisca MyCafeCup dal sistema centrale verso i satelliti, allora voi otterr? molto pi? del vostro tempo libero.

MyCafeCup ? soluzioni del software per l'esercizio di un sistema dell'affitto del caff? o del PC di Cyber del Internet. Progettato soprattutto per il commercio del caff? del Internet di Cyber ed anche pu? essere usato controllare i pc sul vostro Intranet. Il sistema funziona e l'interfaccia di utente ? stata destinata per essere facile da usare con poca o nessun'esperienza nell'industria di calcolatore. Il software permette che installiate i vari programmi di vendita per ogni utente a ha scelto da.

MyCafeCup ? applicazione assistente/del cliente che permette che controlliate e controlliate facilmente a distanza tutta la condizione delle macchine del cliente dall'assistente in in linea ed in tempo reale. I coordinatori inscatolano giusto controllano o controllano le cose ai clienti pi? facili dall'assistente, quale l'arresto, reboot, forzano l'utente al termine attivit?, vedono le applicazioni, ecc correnti....

MyCafeCup ha un'alta sicurezza per impedire individualmente l'accesso di utenti non autorizzato ai vostri calcolatori del cliente, accesso cos? giusto di concessione al vostro cliente. Generando username/password spiega con la capacit? di caricare l'utente in vari termini.

Li invitiamo ad avere uno sguardo affatto che MyCafeCup debba offrire. Trasferisca una copia dal sistema centrale verso i satelliti dell'edizione di valutazione e verific tutte le caratteristiche.

Non si dimentichi di controllare la nostra pagina di notizie per vedere se ci sono le notizie ed informazioni aggiornate sui nostri prodotti.
---
:: German

Internet-Kaffee-Software/Cyber Kaffee-Software durch MyCafeCup - nehmen Sie Steuerung Ihres cybercafe, Internet-Kaffee, Spielmitte oder Spielkaffee. Erforschen Sie, um die neuen Internet-Kaffeemanagementstrategien, flexible Marketing-Pl?ne, Geb?hrenz?hlung leicht zu erhalten und als ?berhaupt. MyCafeCup hat viele einzigartige Eigenschaften, die f?r Internet-Kaffegesch?ft optimiert werden. Downloaden Sie MyCafeCup jetzt, dann Sie erh?lt viel mehr Ihrer freien Zeit.

MyCafeCup ist L?sungen einer Software f?r den Betrieb eines Internet Cyber Kaffee- oder PC-Mietesystems. Entworfen haupts?chlich f?r Cyber Internet-Kaffegesch?ft und kann auch verwendet werden, die PC auf Ihrem Intranet zu steuern. System arbeitet und Benutzerschnittstelle ist entworfen worden, um einfach zu sein, mit weniger oder keiner Erfahrung in der Computerindustrie zu verwenden. Die Software erlaubt Ihnen, verschiedene Marketing-Pl?ne f?r jeden Benutzer auf aufzustellen w?hlte von.

MyCafeCup ist Klient/Bedieneranwendung, die Ihnen erlaubt, allen Klient Maschinen Status vom Bediener in online und in der Realzeit leicht zu handhaben und entfernt zu ?berwachen. Verwalter machen gerades ?berwachen oder handhaben die Sachen an den Klienten ein, die vom Bediener, wie Abschaltung, Neuladen einfacher sind, zwingen den Benutzer zum Log-out, sehen die laufenden Anwendungen, das usw.....

MyCafeCup hat eine hohe Sicherheit, zum des nicht autorisierten Anwenderzugriffs zu Ihren Klient Computern, so gerader Bewilligung Zugang zu Ihrem Kunden einzeln zu verhindern. Indem es verursacht, erkl?rt username/password mit der F?higkeit, den Benutzer in den verschiedenen Bezeichnungen aufzuladen.

Wir laden Sie ein, einen Blick an allen zu haben, die MyCafeCup anbieten mu?. Downloaden Sie eine Kopie der Auswertung Ausgabe und ?berpr?fen Sie aus allen Eigenschaften.

Vergessen Sie nicht, unsere Nachrichten Seite zu Nachrichten und aktueller Information ?ber unsere Produkte zu ?berpr?fen.
---
:: Ending ::